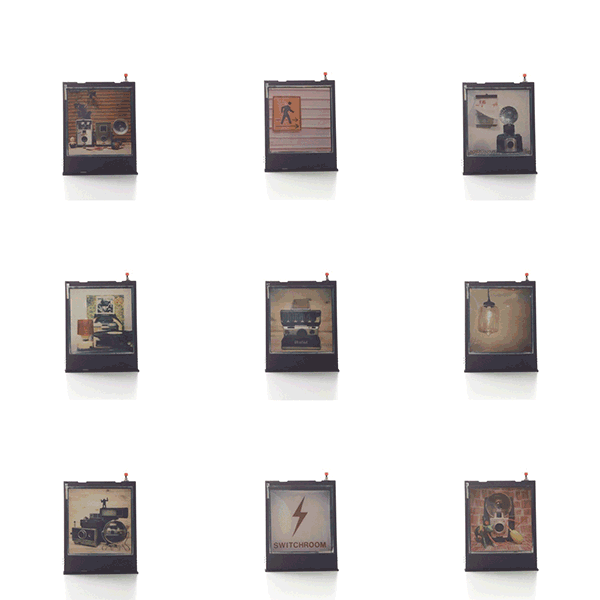 Beneath the Surface is an interactive conceptual artwork incorporating impossible film as the main medium. Since the birth of the Impossible Project film, Miun has embarked on a long 3-year journey in exploring what's beyond the Mylar sheet, constantly experimenting with the amazing layers beneath the surface by slicing open, peeling and manipulating the strength and weakness of the Impossible Project film.
In a 2-part series, Miun's creativity shines through with interactive pieces that illustrate so much more depth and magic in a Polaroid frame than an instant photograph.
A powerful series that will surprise, amuse, interest and inspire viewers.

Polapulse's a remarkably bright idea powered by the polapulse batteries from impossible film cartridges. These interactive art pieces illuminate far more than one's imagination and highlight the magic beneath the surface. Once a beautiful instant picture frozen in time, is now brought to life, commanding attention to look beyond the visible.
Supported by impossible tokyo, thirtysix and mint
Photography : beton brut
HONG KONG Exhibition
2013.07.06 ~ 2013.09.06
mint
2/f, 26a Russell Street,
Causeway Bay, Hong Kong
TAIWAN Exhibition
展覽日期
2013.11.09 ~ 2013.01.09
展覽地點
A. CameZa Square 台中市五權西路一段57巷3弄4號 (忠信市場)
B. CameZa 台中市五權西五街20巷7號
PRAGUE, CZECH REPUBLIC Exhibition
2014.06.03 ~ 2014.08.30
Polagraph
Husinecka 14,
Praha 3, Zizkov
MELBOURNE, AUSTRALIA Exhibition
2015.04.04 ~ 2015.04.22
Magnet Galleries Melbourne by Film Never Die
15a Railway Place, Fairfield
Melbourne Victoria 3078 Australia
SINGAPORE Exhibition
2016.03.07 ~ 2016.03.13
Singaplural
99 Beach Road,
Singapore 189701